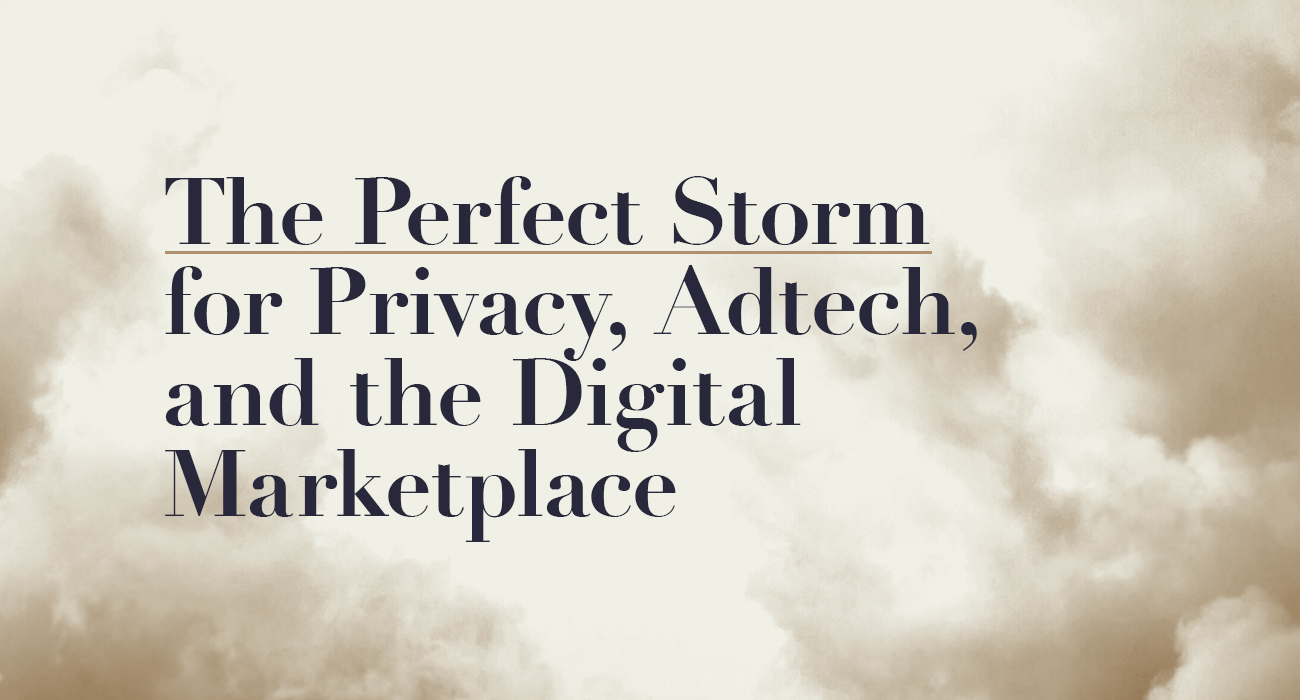 In recent years, discourses surrounding the benefits and risks of the digital landscape have become increasingly common amongst consumers, organizations, and privacy professionals alike. Advancements in technology have created advantageous experiences and lifestyle changes for consumers. However, these benefits come at a price: the handing over personal data. 
While organizations provide different reasons for collecting this information, such as providing a more personalized and targeted experience, ultimately, concerns arise surrounding the privacy and protection of the data. These worries heighten with the occurrences of data breaches, updated terms and conditions, and other privacy hacks.
Even with these challenges, as the digital landscape continues to grow, so does consumer involvement with technology. When considered in the context of the current digital ecosystem and the upcoming legislative and technological changes coupled with the depletion of third-party cookies and other social factors, increased engagement highlights the need for accountability from all members of the digital environment.  
During a recent BBB National Programs' >Better Series Podcast episode, former Data Privacy Manager for BBB National Programs, Ayaz Minhas had the opportunity to speak with two thought leaders in the privacy field: Colin O'Malley, Founder of the Lucid Privacy Group, and Christy Harris, Director of Technology & Privacy Research at the Future of Privacy Forum.
Their captivating conversation addressed the potential that in light of the technological and policy changes currently underway, the perfect storm for privacy and adtech that could shatter the world of data monetization may be on the horizon.  Additionally, they dove into the need to come to a middle ground that considers the importance of protecting consumers' data while meeting organizational goals. Christy Harris addressed this dilemma by asking, "How do we make sure that the individuals or entities using this data do so responsibly to meet everybody's goals and still maintain privacy?"  
According to a recent Entrust survey, most consumers are concerned about data privacy. Still, many are willing to sacrifice their personal information to access better service and obtain greater convenience. Consequently, in regards to the risk-benefit ratio, when consumers engage with the digital marketspace, they are valuing the benefits of the platforms they engage as more significant than the risks they are taking by using them. 
While this is a choice that consumers make, both Harris and O'Malley identified the need for businesses, publishers, and other stakeholders to be accountable and honest regarding how they're using the data they collect. 
"There is definitely an opportunity for publishers to take this chance to be more transparent and potentially leverage iOS controls to ensure that consumers understand and are okay with them handling their data," said O'Malley. During the episode, he also spoke about how recognizing the need for comprehensive privacy legislation has only become more accepted by the digital media ecosystem in the last few years. 
This topic has garnered a substantial amount of attention due to the legislative and technological changes taking place. Still, the coronavirus (COVID-19) pandemic has undeniably brought an additional layer to the conversation. More specifically, as we adapt and transition to a new normal, there is a growing likelihood that individuals may be more willing to provide information if it allows them to do what they want, like eating at a restaurant. 
In line with the Entrust survey, Harris pointed out that "Technology is amazing, but the users that are being bought and sold may not be comfortable with how intertwined their data is in the funding of the market with little demonstrable benefit to themselves." 
Undeniably, many consumers have accepted that to enjoy the advantages of technology and other digital ecosystem components; they'll have to sacrifice at least some of their data. However, privacy professionals such as Harris and O'Malley are passionate about protecting data and ensuring that organizations and consumers can digitally coexist.