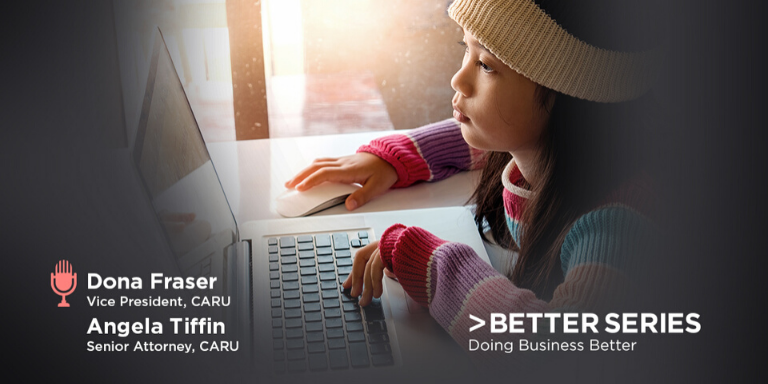 Data privacy is the talk of the town these days. While our digital landscape only continues to expand into a technological dreamland of data collection, establishing regulation is what is going to keep businesses out of a data nightmare. Protecting the data of children who joyfully beg for internet time is a top priority for the Children's Advertising Review Unit (CARU). As Vice President of CARU, Dona Fraser explains, "Children's interaction in an online environment has gone well beyond that family computer." 
On a recent episode of the Better Series podcast, Age Ain't Nothing but a Number. Or is it?, we explored this concept of age gating and the technologies surrounding it with Dona and, Angela Tiffin, who is a senior attorney for CARU. Up until this point, age verification has been a very ambiguous task. Technology to fulfill this requirement of accurately screening children users 13 and under is slow to catch up. What's stopping a child from just entering a fake birthday? Usually nothing. 
Angela cited that she felt, "FTC was hoping industry would innovate in this area and come up with some solutions on how to make sure a child was 13 or over." The complexity lies in developing technology that does the job but isn't overly invasive. CARU recommendation to businesses that they refrain from giving children "tip-off language," which are instructions that give someone insight into how old they have to be before entering age-specific information. Still, kids are smart, and they figure out workarounds. 
So what is the solution here? 
As far as innovative technologies for age gating, they are few and far between in this arena. Aside from 13+ social media, e-commerce is another online niche that has seen a high demand for accurate, honest age gating technologies. Some are innovating to solve this issue by using software that automatically conducts a comprehensive background check from the personal information entered by the user in comparison with a public records network. If the software isn't able to obtain reliable verification,  the customer is asked to upload a picture of their i.d. to complete the verification process.
But what happens when minors utilize an adult's i.d. to get around this technology? For online dating services, the stakes are a little different when children get involved. Recently an online dating service called The Meet Group teamed up with Yoti to begin screening their users with biometric technology. Yoti Age Scan will screen a person's biometrics to determine whether or not the user is over 25 years old as a way to protect minors and their company from any age gating mishaps. 
As you'll hear described in our podcast, the only qualm with data collection of biometrics is the potential security risks associated with obtaining this type of sensitive information. We want a solution without being too invasive of people's privacy. Even with the risk involved, biometrics could be a key to unlocking the golden gates of age screening.