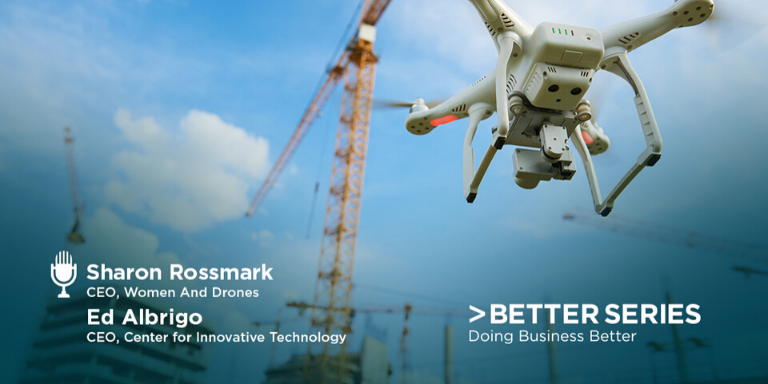 Since the dawn of aviation, people have dreamed of the day when flying machines were part of everyday life and routine business. Early science fiction silent movies like Metropolis, The Jetsons cartoon, and even Back to the Future tapped into our fascination with flying cars. While the dream remains alive, the practical application is still in the future.
What is rapidly becoming reality is the mainstreaming of unmanned aerial vehicles – UAVs or drones – that come in all shapes and sizes for a wide variety of public and private sector purposes. And while we can't use a drone to commute to Spacely Sprockets yet, we're well down the road to incorporating drones into everyday life. The question is – how soon and in what ways will businesses adopt this technology?
The BBB National Programs' <Better Series Podcast recently focused on the progress being made with integrating aerial drones into everyday business processes. Ed Albrigo is the President & CEO of the Center for Innovative Technology, a non-profit that helps entrepreneurs launch high-growth technology companies, and Sharon Rossmark, an FAA Certified Drone Pilot and CEO of Women and Drones, a global platform for women who are helping to shape the drone industry.
Drones became popular in the past decade as holiday gifts that usually ended in a tree or on a roof, but now are highly regulated aircraft with certified pilots. "What most (hobbyists) don't realize is that when you are flying a drone outdoors, you are flying in the national airspace, so therein lies why there's got to be rules and regulations," noted Rossmark when explaining what's needed for drones to be fully integrated into businesses.
That integration is already underway in businesses and civilian government agencies, according to Albrigo. "Companies seeking to use drones are looking to speed up processes like delivery or mapping, inspect infrastructures like pipelines and powerlines, or improve safety by using drones instead of a human in dangerous situations."
But drone uses are not limited to large enterprises and complex tasks. Sometimes, they help small businesses improve their customer service. "There is a confectioner in the Christiansburg/Blacksburg area of Virginia where you can call when you need a special occasion gift," noted Albrigo. "They'll load up a drone with some wonderful chocolates or cookies – and deliver them to your home. In fact, there is a demand for that micro-package delivery."
While businesses work on how to take advantage of drones, Rossmark says the aviation community is working to make sure the integration is done safely. "In order to integrate all this and really incorporate it into our everyday lives, we need more regulation to help frame for us how to incorporate all these different aircraft in the same sky."
You can hear the full conversation about integrating drones into your business by listening to the >Better Series episode, Regulation of the Skies, at the BBB National Programs' Podcast website, on the Apple Podcast app, or your favorite streaming platform.