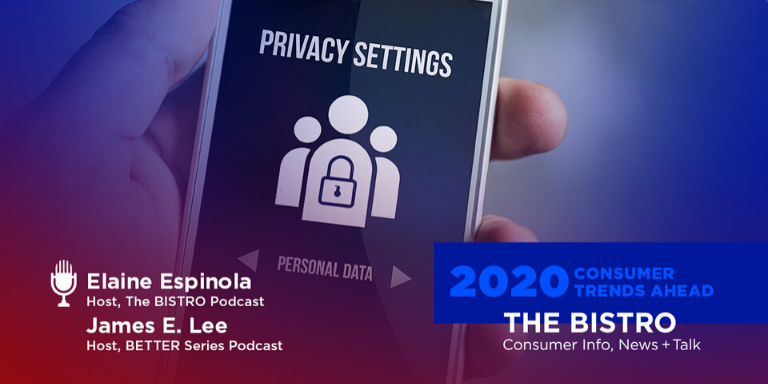 Along with holiday parties, gifts, family gatherings, and cookies, this is the time of year when we look back at what happened in the past 12 months and look forward to the New Year. We've put fresh batteries in our crystal ball and have divined four topics we'll be talking about this time next year.
Do not sell my data – How businesses collect, use, and share consumer data has been a front-burner issue since 2018 when the European Union passed a strict data protection law. California has taken a page from the EU's privacy playbook and adopted the "CCPA" that gives consumers unprecedented (in the US) rights to access and control information about them and places strict requirements on businesses. Look for more states – and maybe even Congress – to follow California's lead. New York, we're looking at you…
Siri, charge the car, take the wheel, and protect my data – At the end of 2019, Ford announced the most iconic car of the late 20th century – the Mustang – would soon be an electric vehicle or EV. In 2020 EV sales will cross the threshold set by the US government to reduce the current tax incentive to buy an electric car. Meanwhile, thanks to the tech required for self-driving or driver assistance features, cars in 2020 will have more than 200 different data sensors to collect information. All US cars are collectively expected to generate 4 Terabytes of data each day, creating a whole new set of privacy concerns. See item #1 above.
I'll subscribe to that! – Subscriptions are the business model du jour favored by businesses and consumers alike. In 2016 annual subscription revenue totaled $2.6B in the US. By the end of 2020, it's expected to be $2.1B per month! Businesses love the recurring revenue that comes with a monthly, quarterly or annual subscription and the higher retention rates. Gartner predicts that by 2023, 75% of all businesses will offer some form of subscription service.
Customers flex their muscle – It's always been a mantra that "the customer is always right," but that's not necessarily how businesses have behaved. Thanks to social media, consumers are forcing businesses to live up to their high expectations or suffer the wrath of an unhappy customer base that is willing to take their spending money elsewhere. We've already seen users force gig economy companies share tips with workers and "influencer" behaviors driving changes in marketing and advertising rules. Look for more social media-driven changes as consumers realize the power they possess. 
Want to learn more about what's ahead in 2020?  Listening to the full episode of The Bistro at the BBB National Programs' Podcast website, on the Apple Podcast app, or your favorite streaming platform.