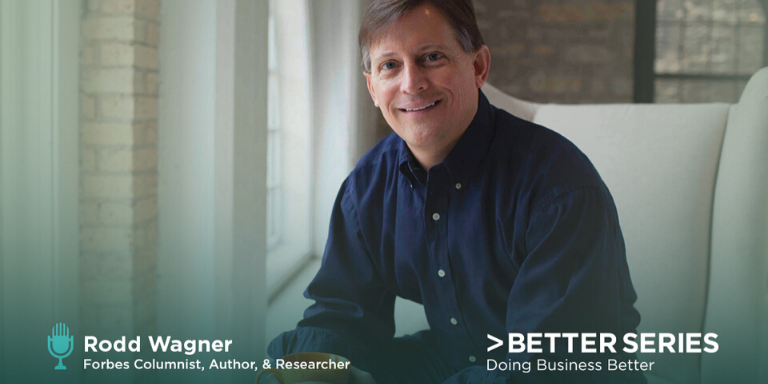 In the eleven years since the Great Recession, the US labor market has flipped from having too few jobs for too many unemployed people to a job landscape that looks more like reverse musical chairs where there are not enough players to fill the seats when the music stops. For a growing company, finding the talent to scale a business can mean the difference between long-term success or short-term failure. 
So what to do if you are spending your days trolling Linkedin for job candidates? "There is no good substitute for a corporate philosophy that puts its employees' happiness and wealth on par with its returns to investors." That's a quote from the latest guest on the BBB National Program's >Better Series podcast, Rodd Wagner, a New York Times best-selling author, Forbes columnist, and guy who – in his own words – researches and advises on why people do what they do.
"I think there is just really one 'must-have' and that's a conscience," says Wagner when discussing what qualities a leader needs to build a successful team. "Everything flows from that and nothing compensates for a lack of having one."
You don't see many job postings hyping a company's conscience, which poses an interesting dilemma for both the hiring manager and job candidate. Wagner sees the answer in how leaders describe the company's vision in interviews. "How much 'me' do you hear as opposed to 'we.' If the conversation is all 'me, me, me' or 'here's what I did' as opposed to 'here's what we did,' and 'here's where we're going together'."  
Wagner also describes the value of pairing up with a differing view to help a company succeed, noting it's often required. "You don't see many jets taking off from Reagan National Airport with only one pilot or scuba divers making a difficult dive alone."
"There is nothing more valuable than having a different set of eyes – not just a second set – who sees the world differently looking to see if you've missed anything," Wagner noted.
To hear the full episode of the >Better Series with Rodd Wagner, visit the BBB National Program's Podcast website or listen on iTunes or your favorite streaming platform.