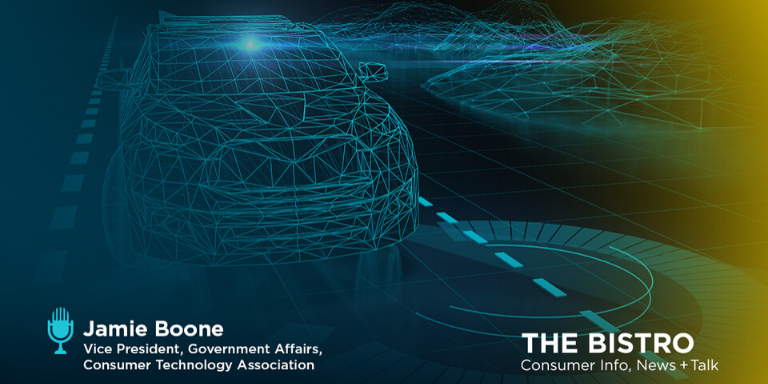 It wasn't too long ago that people were fixated by the Jetson cartoon, watching in awe at the possibility of a futuristic lifestyle filled with flying vehicles and automated machines. Little did we know that innovators were already in motion towards making autonomous vehicles a reality. The earliest concepts for self-driving vehicles began taking root in the 1980s. Ever since then, it's been nothing but progress for this fascinating development.
Recently, we had the pleasure of sitting down with Jamie Boone, Senior Director of Government Affairs, with the Consumer Technology Association (CES) for our podcast, Driving Into the Future. She led us in a thought-provoking discussion around the history of self-driving cars and the benefits of this breakthrough technology. Jamie also delved into consumer insights, government policies, and what we can expect to see for the future of autonomous vehicles. 
Jamie's history lesson of this world-changing innovation includes the role of the Defense Advanced Research Projects Agency (DARPA). It has been a catalyst for the wave of advances made in the past 15 years. This agency invests in breakthrough technologies for the benefit of national security. When they first began on their path of discovery for autonomous vehicles, they were on a mission to provide better protection for US military soldiers.
Instead of employing the typical defense contractors for this pivotal project, DARPA decided to take a brand new approach. Like something from a Hollywood movie, in 2004, they hosted a race in the Mojave Desert called the Grand Challenge. Anyone and everyone could enter. It was a 142-mile course with a $1 million prize for the winner. The fifteen entrants ran the gamut of backgrounds, including innovators, engineers, students, programmers, off-road racers, and backyard mechanics, all hoping to claim stake as pioneers in this discovery. Unlike a picture-perfect ending you would expect from a movie, there turned out to be no winners in this first go-round. This was just the beginning of the autonomous car gold-rush. 
The Grand Challenge had sparked the fires of innovation. Riding this momentum, DARPA immediately announced they would host another Grand Challenge in 2005. Word must've gotten around about what they were doing because this time, they had 195 entrants. The race was held in Southern Nevada with a 132-mile course. Five teams victoriously completed the route. Stanford University's "Stanley" claimed the $2 million prize with a winning time of six hours and fifty-three minutes. 
The third pinnacle event that drove this innovative force would be DARPA's Urban Challenge of 2007. It's one thing to have a self-driving vehicle that can handle the wide-open spaces of the desert. It's a whole other thing to be able to respond to the unpredictable variables of busy urban life. The challenge was to see who could create an autonomous vehicle that could navigate the complexities of city roadways while complying with traffic regulations. Six out of the eleven teams completed the course, with Carnegie Mellon University's Tartan Racing Team winning the prize. 
These three major events were what sparked the rapid development and deployment of autonomous cars. The industry is forecasted to be worth a whopping $557 billion by 2026. Anyone who has a hand in the auto industry is clamoring to get a piece of this pie. New players like Waymo and Uber are directly linked back to the DARPA challenges. Every automaker is currently working on developing their best version of a self-driving vehicle. You can see self-driving cars in action in major cities like Las Vegas, Boston, and San Francisco. 
For more intriguing insights on this captivating technology, listen to our podcast with Jamie Boone of CES. The Jeston reality is coming sooner than we think!