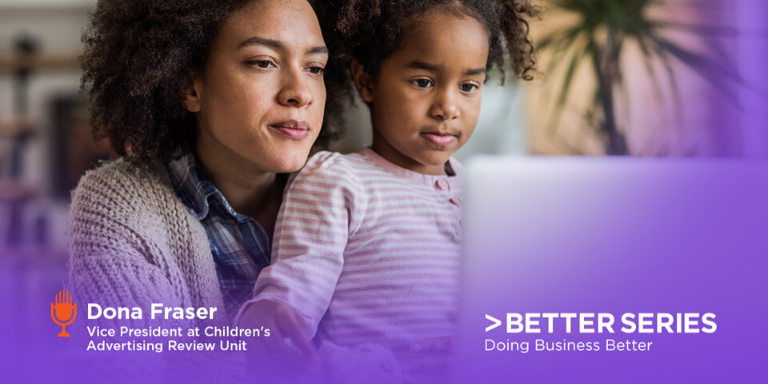 On September 4th of this year, YouTube and its parent company – Google – agreed to pay a record $170 million to settle claims by the Federal Trade Commission and the New York Attorney General. Government regulators alleged that YouTube illegally collected personal information from children without their parents' consent.
The agreement requires YouTube and Google to pay $136 million to the FTC and $34 million to the State of New York for violating the Children's Online Privacy Protection Act also known as COPPA. The penalty is by far the largest amount the FTC has ever obtained in a COPPA case since Congress enacted the law in 1998.
The BBB National Programs has long been associated with helping businesses comply with COPPA through it's Safe Harbor Program within the Children's Advertising Review Unit. Dona Fraser is the director of that program and she recently discussed with the BBB National Programs' >Better Series Podcast how COPPA is working in a rapidly changing tech and social environment.
"The law is about protecting kids in an online environment, but also about giving parents the opportunity to engage and give them choices about how their children's data was being obtained, collected and shared," explained Fraser. 
The Children's Advertising Review Unit advises businesses on is how to avoid business practices that are regulated under COPPA which requires parental consent for collecting and sharing information from and about children under age 13. Often the decision involves the question – is the business targeting children?
"What may be perceived internally in a company as 'we're not intending to target kids' and 'we don't want kids data,' but the FTC or other regulators may look at an action based on criteria in COPPA with regards to it being appealing to children," Fraser noted. "Some of those actions may include using cartoons, celebrities, and things that may be appealing to a child could be interpreted as targeting children." 
If you want to learn more about COPPA, visit the BBB National Program's Children's Advertising Review Unit webpage. You can also learn more about how proposed changes in COPPA and state laws may impact your business by listening to the >Better Series episode "COPPA is Changing, Is Your Business Ready?" with Dona Fraser at the BBB National Programs' Podcast website, on the Apple Podcast app or your favorite streaming platform.