Podcast: Play in new window | Download (Duration: 8:11 — 18.7MB) | Embed
Subscribe: Apple Podcasts | Android | Email | Google Podcasts | Stitcher | RSS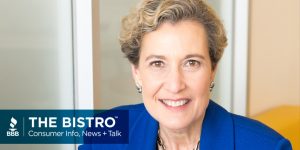 Council of Better Business Bureaus President and CEO, Mary Power discusses The Bistro podcast. We discuss today's hottest consumer trends, predict the future with consumer experts, and learn how elite businesses and entrepreneurs continue to push the envelope to meet and shape the needs of the consumer.
We'd Love To Hear From You!
Please take our survey to provide us with your feedback.