Podcast: Play in new window | Download (Duration: 8:16 — 18.9MB) | Embed
Subscribe: Apple Podcasts | Android | Email | Google Podcasts | Stitcher | RSS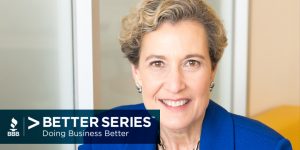 Council of Better Business Bureaus President and CEO, Mary Power discusses Better Business > Better Series podcast. Join our open dialogue to talk through the impacts, direction, and forward movement of our dynamic marketplace. Let's discover together what doing business better looks like, in the 21st century market.
We'd Love To Hear From You!
Please take our survey to provide us with your feedback.